Ingredients for Basic French King Cake Recipe: New Orleans Style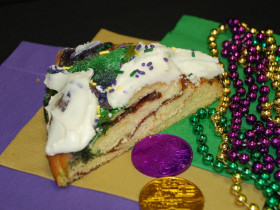 Check out all my recipes for different varieties. These are the basic ingredients you will need for a traditional
New Orleans King Cake
. In addition to the traditional
king cake recipe
, you'll also find
filled king cake recipes
. I've tred a few different ways to make the cakes, but these are the best king cake recipes I've tasted!
CAKE:
1 cup whole milk
1/4 cup melted butter
2 (.25 ounce) packets active dry yeast
2/3 cup warm water (About 110 degrees F or 45 degrees C)
1/2 cup white sugar
2 large eggs
1/2 teaspoon nutmeg
1 1/2 teaspoons salt
5 1/2 cups all-purpose flour
1 small plastic doll (to be added at the end of the baking process)
FILLING:
1 1/2 tablespoons ground cinnamon
1 cup packed brown sugar
1/2 cup melted butter

FROSTING:
1 cup confectioners' sugar
2-3 teaspoons warm water
1 teaspoon pure vanilla extract
►Click here for my delicious
king cake recipe
.
History of New Orleans King Cakes
King Cakes are a staple to one of the most famous New Orleans festivals—Mardi Gras. The Mardi Gras season begins on January 6 and continues until Ash Wednesday. During this time of merriment after the Christmas season, Christians...
continue reading ►